I am a professional soldier, a Scout Ranger warrior, and a public servant rolled into one.
As a public servant, I always wanted to help others and change their lives.
In my own little way, I made small contributions in helping some of the poor people who are close to me, believing that charity starts from home.
But, the problem is that helping others means having extra money to spend. Anak ng magsasaka lang po kasi.
Unfortunately, I have not earned millions after faithfully serving the Army in the past 17 years.
Don't call us underpaid employees with P500.00 as 'hazard pay' while 'exchanging faces' with the Abu Sayyaf and other armed threats who want to disturb the peace in our land.
Soldiers are in public service, not in an ordinary job as employees.
Our primary motivation in entering the military is public service and earning an income comes second.
However, like anyone else, soldiers are affected by rising prices of commodities. We also have big dreams for our children by sending them to reputable schools.
Because of all of these circumstances, we need to augment our salary through legal means.
There are various ways to earn extra income. Meron naman tayong ideas paano kumita na hindi nagnanakaw sa kaban ng bayan.
We have soldiers who have established sari-sari stores while others ventured into farming in the countryside.
Others are lucky to have the opportunity of earning large amount of extra income while in the service as military 'OFWs' with allowances in US dollars.
My first 1.0 Million was earned through hardwork in the savanna and marshlands of war-torn South Sudan where I served as a military observer of the United Nations in 2008.
When I helped the son of our farm worker finish college about a 7 years ago, I had to cut my own 'vices' (shooting and eating) just to save more money.
It made me realize that the desire to help others come with a price; and, I couldn't help others when I don't have the financial capacity to do so.
My salary as a soldier is barely enough to sustain my family; therefore, I have to find some source of income to continue helping my little angels out there.
I was discussing some options on how to earn extra income back in May 2011 when my wife mentioned the guy named Bo Sanchez.
"Who is that man? Is he a billionaire who will loan us an amount for our scholars in Bicol?
"He teaches

financial literacy to people

. Look, his maids are making money in the stock market right now," she said showing me a small book.
"The tandem of a Scout Ranger and a CPA perhaps can do the same right?" my wife challenged me.
"Let's know our enemy here and devise a simple plan that we can boldly execute," I replied.
(I downloaded the image from the website of Bro. Bo Sanchez)
When I took a closer look, I became interested. It had a catchy title:


"My Maid Invests in the Stock Market and Why You Should Too!"
When I started to scan the pages, it was no turning back. I never stopped until I reached the back cover.
"If Mr Bo Sanchez's maid learned how to do it, a Scout Ranger and an Accountant can probably do it as well," I said.
Later, we decided to attend a seminar where Sanchez shares his techniques on how to 'invade' the stock market.
I am a warrior and a risk-taker. I have a winning attitude and I am always excited to face dangers including the unknown world of the stock market.
My first impression of a stock market is that only the likes of grandpa Lucio Tan have the bragging rights to utter this 'strange-sounding' word.
As a soldier, my expertise is on combat patrols, disaster risk reduction, humanitarian assistance and inter-agency collaboration.
Well, I can also utter strange words such as patrol base operations, bullet drop calculations, final firing position and sniper hides!
I also heard that you can be instant millionaire or an instant pauper in the stock market.
Then, my wife decided to attend Brother Bo's interesting seminar titled "How to be truly rich seminar".
For a minimal 'tuition fee', she learned the 'secrets' of the trade and ended up laughing all day with Bo's endless jokes about life.
I regretted to miss the seminar because of conflict in my schedule; however, my wife was able to share everything she learned.
When my wife briefed me about the outcome, she summarized her seminar experience: "He is a great teacher!"

That was the time we became enlightened about the difference between 'stock trading' and 'stock investing'.
"
Stock trading is when you buy a stock usually high risk stocks on short term basis speculating that its price will go up. If you are able to closely monitor these price fluctuations and sell your stocks when the price is higher, you're a winner. However, the reverse could also happen and the price of this stock can dip anytime, " she said, reiterating Bro. Bo's explanation.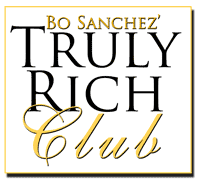 "Stock investing on the other hand is putting a regular amount of money in the stock market over a long term period and buying
stocks of giant companies when their prices are undervalue. Then, you can monitor the prices until they reach the predicted price ceiling during which you can sell them," she added.
Interested to know more about stock investing, we also enrolled in Bro. Bo's Truly Rich Club online. As a member, you will earn the privilege of receiving updates about the stock market information such as

what stock to buy, when to sell

, at what price ceiling to be considered in buying or selling your stock. etc.
Hmmm. It is like deciding which armed threat to confront, when to attack and which targets are to be engaged.
While gradually learning the bolts and nuts of stock investing, we gradually poured in capital to our Citisec Online

(now called COL Financial - Philippines)

account.
Like putting some coins in a piggy bank, we also religiously set aside an amount from our respective salary for our stock investment account.
Then, we made it a habit to visit our account to monitor the updates and decide whether to buy or sell some stocks.
After more than a year in stock investing, we are now earning at least 25% of our capital.
The financial gains are much better than letting our money 'sleep' in the bank and even in AFPSLAI which offers about 16% interest per annum.
Seeing that we made it work, I convinced some of my staff to follow our path.
"I don't want to be rich alone," I told them.
Indeed, Chinese leader Deng Xiaoping was right when he said that 'to be rich is glorious.
In the future, a professional soldier can also be proud of earning millions in a decent manner. Promise, ilagay ko po lahat sa SALN at bayad din po lahat ng taxes.
I have more reasons to smile. I can probably expand my small charity work which I also consider as the fountain of my blessings.
W

e are slowly treading that path.
(This is first of two parts. I and my wife, Bia, will share the step by step procedure on how to invest in the stock market in the next part of my story)